We have many items such as clothing, shoes, book bags, etc. which were left behind by our students. These items, if yours, can be retrieved Monday- Friday 8 a.m. - 3:45 p.m. in the MS/HS cafeteria. Items will be available for perusal until July 11 at which time they then will be donated. Contact the school with any questions. Thank you.

Everett Area School District is soliciting sealed bids on #2 Fuel Oil. Specification details may be obtained by calling 814-652-9114 x 2104 or by accessing the news article here:
https://www.everettasd.org/article/768428
.

Congratulations Warrior baseball! PIAA Class AA State Champions!!!

In observance of the Everett baseball team playing in the state championship game on Thursday, June 16, the central office and all schools of the Everett Area School District will be closed.  There will be no summer programming.  Summer camp at the elementary school is cancelled as well as the summer school program at the MS/HS.  Again, the Everett Area School District will be closed on Thursday, June 16.  Hope to see everyone at the game.

Marking period 4 report cards have been posted in Skyward. If you aren't sure how to access them, click here to find out:
https://5il.co/fclm

Attention all current 6th-11th grade students and parents! You can now view your schedule for next year online through Skyward! Click here to see how:
https://5il.co/1b60o

Summer Shape Program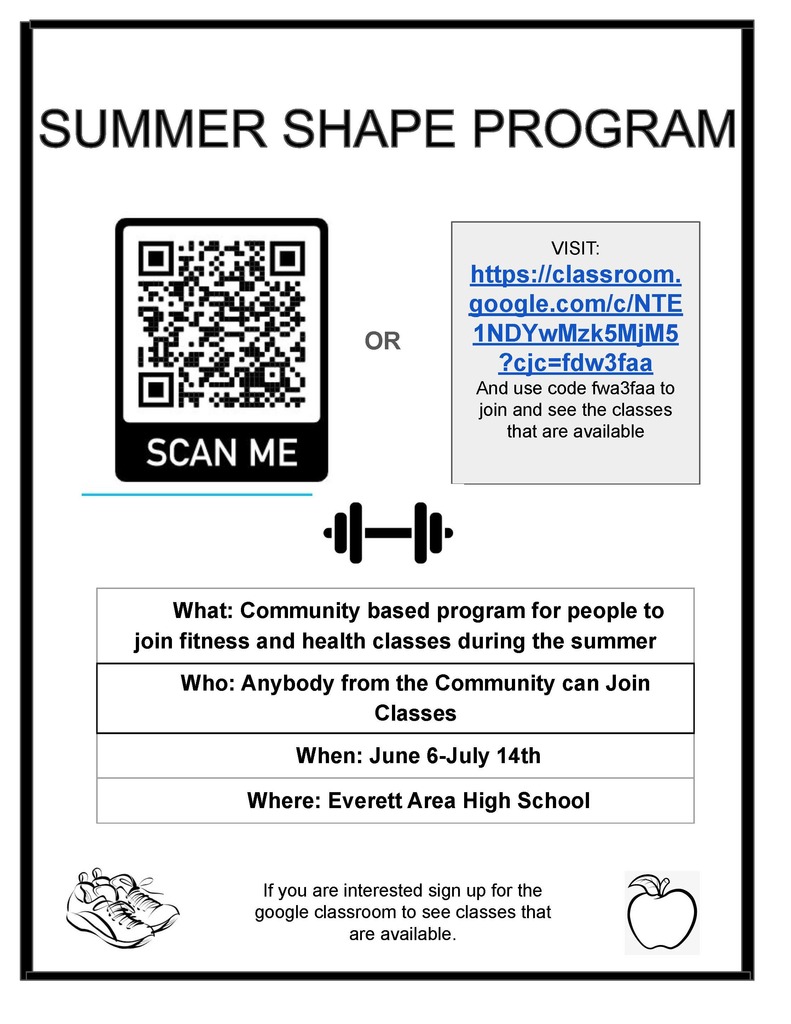 Everett Area SD will be hosting a summer shape program where individuals within the community will have the opportunity to come in and participate in a variety of health and fitness classes. The link to the google classroom to view and sign up for classes is listed below. This program is open to everyone within the community, so if you or someone you know is interested in joining a fitness class over the summer, please follow the link to the google classroom to see the different classes provided. There is something for everyone. We hope to see you there.
https://classroom.google.com/c/NTE1NDYwMzk5MjM5?cjc=fdw3faa

BUDGET NOTICE! The Everett Area School District's proposed 2022-23 budget is available for public inspection at the Superintendent's Office (or at this link:
https://5il.co/1aiw9
) and is subject to any desirable revisions prior to final adoption. The Everett Area School District intends to final adopt the 2022-23 budget on June 16, 2022.

The Bedford County 21st Century Community Learning Centers Consortium will once again sponsor a summer STEAM (science, technology, engineering, art and math) camp at the Bedford County Technical Center in June and July 2022. This camp is open to incoming 6th through 12th grade students. See this news article for more information:
https://www.everettasd.org/article/741438

This message is for parents and guardians of Everett Area High School.  We will be administering Keystone tests beginning on May 16.  The schedule will be as follows:  Biology testing with take place on May 16 and 17, Literature testing on May 19 and 20, and Algebra 1 testing on May 23 and 24.  Breakfast will be served each morning from 7:50 am until 8:10 am.  All Keystone testing will be administered online, so students should make sure their Chromebooks are fully charged before they report to school each testing day.   Any student who has already passed one or more of the designated Keystone tests does not have to come to school in the morning on the testing days for a test they have already passed.  Those students who choose not to come to school in the morning must provide their own transportation and arrive between 10:30 am and 10:50 am.  All other students should report to school at the regular time.   Tech center students who are not testing will depart the high school at the normal time, so those tech center students who do not come to school in the morning should provide their own transportation to the high school and arrive by 10:00 am.   If you have any questions, please call the school.

​There has been an alarming trend in our county regarding vape pens and other drugs. Please click here to view a letter detailing this information:
https://5il.co/16jji

Dear Parents and Guardians As per the recent change in guidance from the CDC, masks are now optional on school buses and transportation. Thank you.


Interested in participating in Senior Challenge? Read and fill out this document here:
https://5il.co/15pah

We are currently accepting pre-registration for Kindergarten and The Learning Lamp Pre-Kindergarten children in the Everett Area School District for the 2022-2023 school year. Please complete and submit the form at the end of this message. We will contact you at a later date to complete the registration process. Any questions, please call the elementary office at (814) 652-9114 ext. 3117.
https://forms.gle/SrArhSnRYDrVocdF7

Special thank you to Knights of Columbus for your generous donation to our students. We appreciate you, greatly. Pictured are teachers Emily Hartrampf and Trenton Barnes.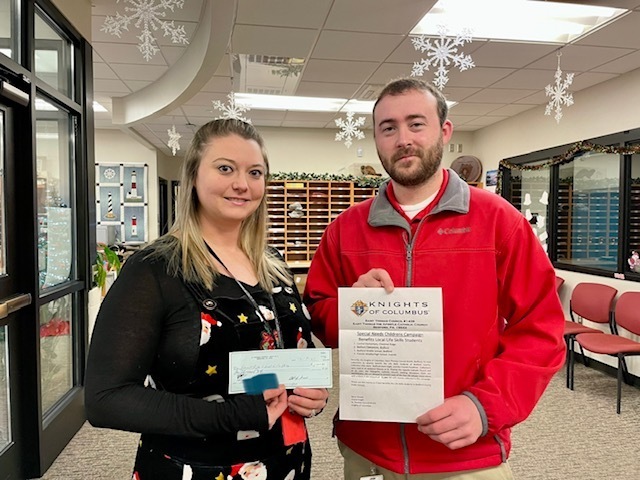 Mask Mandate Update Friday afternoon the Everett Area School District received notification that the Pennsylvania Supreme court vacated the PA Department of Health's school mask mandate. Beginning on Monday, December 13, 2021 masks will be optional for all students, staff and visitors. This applies inside and outside of all school buildings and events. Masks are still required on public transportation including school busses and vans. Contact tracing and quarantining are also still required. Thank you for your understanding during this trying time. We will continue to update you as information becomes available.

Students pose with pumpkins that they made. Back row: Braelin Downs - 5th place, Sarah Wenstrand - 4th place, Ava Weicht - 1st place. Front row: Samareh Morse - 3rd place, Abigail Iseminger - 2nd place.