Parents, Guardians, Students and Staff, The students of the Everett Area School District will participate in a State required, District-wide, intruder safety drill on, Tuesday, September 27, 2022. The students will be made explicitly aware of the fact that it is only a drill, immediately prior to the event. Students will be supervised at all times. If you have any questions, please contact the building Administrator. Thank you

Final call for any student who participated in the yearbook fundraiser. All paperwork and money must be in by Thursday, September, 8, 2022 at 3:30pm. Thank you so much. We appreciate your support.

Good afternoon, Dear parents/guardians. We are asking that everyone fill out a free/reduced lunch application for your student. This is so important, even if you feel you won't qualify, or even if your child doesn't eat school lunch. This data is used to qualify for grants and benefits which affect everyone. If you have already submitted your application, thank you, if you haven't, please do so ASAP. We have received many applications that only have a parent signature. We are unable to use these, as they do not have the needed information. All applications must be filled out completely to count. We will be attempting to contact those applicants in the near future. Thank you

Here's an opportunity to save on Broadband Internet! The following link provides information on how to receive discounted broadband internet service, for those who qualify. Click here for more info:
https://www.fcc.gov/acp
(This offer is from a third-party provider and is not affiliated with the Everett Area School District.)

This is a message for any student grades 9 through 12 who is interest in playing golf. If you want to join the golf team, or if you are thinking about joining the golf team, there will be a meeting this Friday, August 5 at 4:00pm at Down River golf course. You do not have to be an experienced golfer to join. Come see what the golf team is all about.

NOTICE - You must fill out a request to speak at the Board meetings. The form can be found here:
https://5il.co/1dqbg

If you would like to see the results of our most recent drinking water report, you can find it here:
https://5il.co/1dh0b

On Wednesday, July 13, we will be conducting JH (grades 7-9) Cheerleading sign ups. These will be held from 5-6 p.m. at the elementary pavilion.

Free Meal Waiver Set to Expire in June 2022 Child Nutrition waivers implemented by the federal government during the COVID-19 pandemic expired June 30, 2022. One of the most important waivers was the Seamless Summer Food Program (SSO), which provided all students with free meals, regardless of income status. An extension is possible, but not likely. Please be aware that upon expiration of this waiver, meals will no longer be free to all families. Free and Reduced price meal applications will need to be completed in order to qualify for such meals. The applications can be found here:
https://5il.co/1dbik
and more information can be found here: COMPASS HHS Home (state.pa.us)

We have many items such as clothing, shoes, book bags, etc. which were left behind by our students. These items, if yours, can be retrieved Monday- Friday 8 a.m. - 3:45 p.m. in the MS/HS cafeteria. Items will be available for perusal until July 11 at which time they then will be donated. Contact the school with any questions. Thank you.

Everett Area School District is soliciting sealed bids on #2 Fuel Oil. Specification details may be obtained by calling 814-652-9114 x 2104 or by accessing the news article here:
https://www.everettasd.org/article/768428
.

Congratulations Warrior baseball! PIAA Class AA State Champions!!!

In observance of the Everett baseball team playing in the state championship game on Thursday, June 16, the central office and all schools of the Everett Area School District will be closed.  There will be no summer programming.  Summer camp at the elementary school is cancelled as well as the summer school program at the MS/HS.  Again, the Everett Area School District will be closed on Thursday, June 16.  Hope to see everyone at the game.

Marking period 4 report cards have been posted in Skyward. If you aren't sure how to access them, click here to find out:
https://5il.co/fclm

Attention all current 6th-11th grade students and parents! You can now view your schedule for next year online through Skyward! Click here to see how:
https://5il.co/1b60o

Summer Shape Program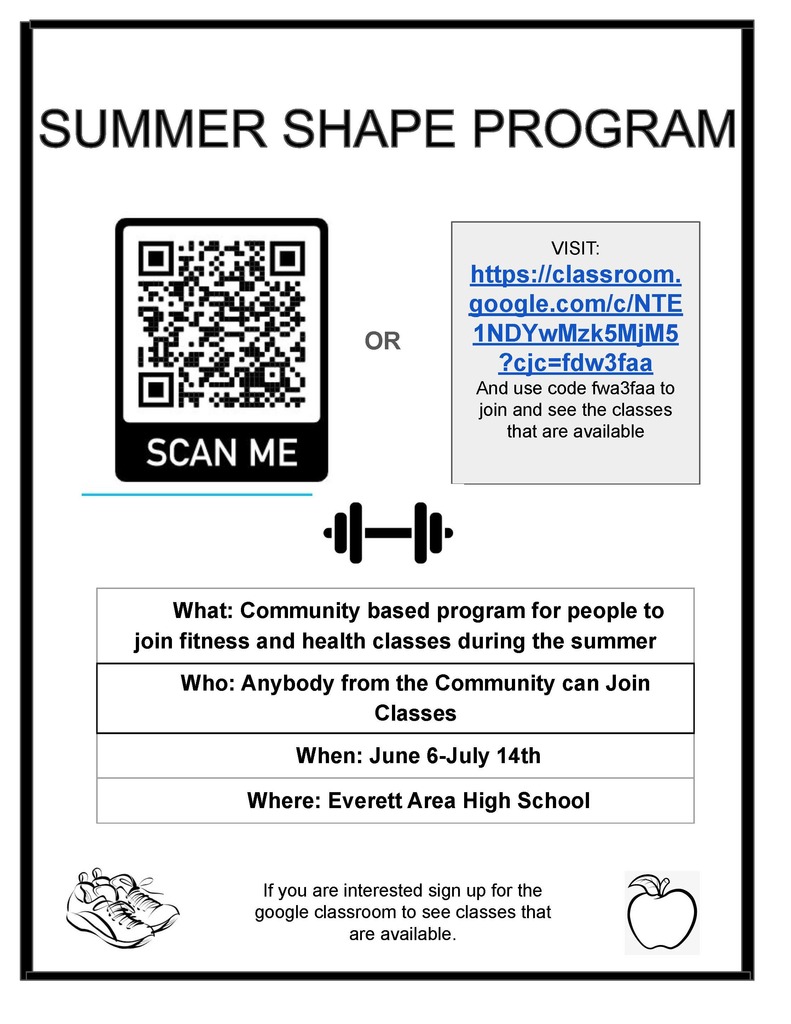 Everett Area SD will be hosting a summer shape program where individuals within the community will have the opportunity to come in and participate in a variety of health and fitness classes. The link to the google classroom to view and sign up for classes is listed below. This program is open to everyone within the community, so if you or someone you know is interested in joining a fitness class over the summer, please follow the link to the google classroom to see the different classes provided. There is something for everyone. We hope to see you there.
https://classroom.google.com/c/NTE1NDYwMzk5MjM5?cjc=fdw3faa

BUDGET NOTICE! The Everett Area School District's proposed 2022-23 budget is available for public inspection at the Superintendent's Office (or at this link:
https://5il.co/1aiw9
) and is subject to any desirable revisions prior to final adoption. The Everett Area School District intends to final adopt the 2022-23 budget on June 16, 2022.

The Bedford County 21st Century Community Learning Centers Consortium will once again sponsor a summer STEAM (science, technology, engineering, art and math) camp at the Bedford County Technical Center in June and July 2022. This camp is open to incoming 6th through 12th grade students. See this news article for more information:
https://www.everettasd.org/article/741438

This message is for parents and guardians of Everett Area High School.  We will be administering Keystone tests beginning on May 16.  The schedule will be as follows:  Biology testing with take place on May 16 and 17, Literature testing on May 19 and 20, and Algebra 1 testing on May 23 and 24.  Breakfast will be served each morning from 7:50 am until 8:10 am.  All Keystone testing will be administered online, so students should make sure their Chromebooks are fully charged before they report to school each testing day.   Any student who has already passed one or more of the designated Keystone tests does not have to come to school in the morning on the testing days for a test they have already passed.  Those students who choose not to come to school in the morning must provide their own transportation and arrive between 10:30 am and 10:50 am.  All other students should report to school at the regular time.   Tech center students who are not testing will depart the high school at the normal time, so those tech center students who do not come to school in the morning should provide their own transportation to the high school and arrive by 10:00 am.   If you have any questions, please call the school.