News
SUBSTITUTES NEEDED Everett Area School District is seeking: · Substitute Teachers – All Certification Areas · Substitute Custodians to perform clea...
The school day's over. What's next? Do you want to hang out with friends? Learn what your future career might hold and have an edge on every other job seeker for that summer jo...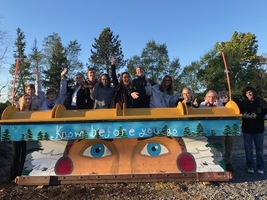 Students from Mrs. Grassi's art club recently painted the plow!
SEE ALL NEWS
LIVE FEED
Adam Whisel
1 day ago
Good Evening, Today all middle school and high school students were educated on a new statewide anonymous reporting system called Safe2Say Something. This system is designed to promote the reporting of events that affect school and individual safety. More information can be found on our website at everettasd.org or call the middle school high school at 814-652-9114

Everett Area School District
6 days ago
As a reminder, applications for the National Honor Society are due to Mrs. Kline by Friday, January 25, 2019.
Jim Hollis
16 days ago
Due to to the weather cancellation earlier this year, school will be in session on Monday, January 21, 2019.

Adam Whisel
about 1 month ago
In an effort to give parents accurate information about events occurring at school, the Everett Area School District would like to notify you that pepper spray was brought to school today by a student and sprayed in a public area. No students were directly sprayed. Administration was immediately notified and steps to ensure students safety were put into place. Any students and staff affected were screened by our school nurse. We want to remind parents and students that pepper spray is not permitted on school property and is considered a weapon. Any question please contact administration.
SEE ALL POSTS