EMPLOYMENT OPPORTUNITIES: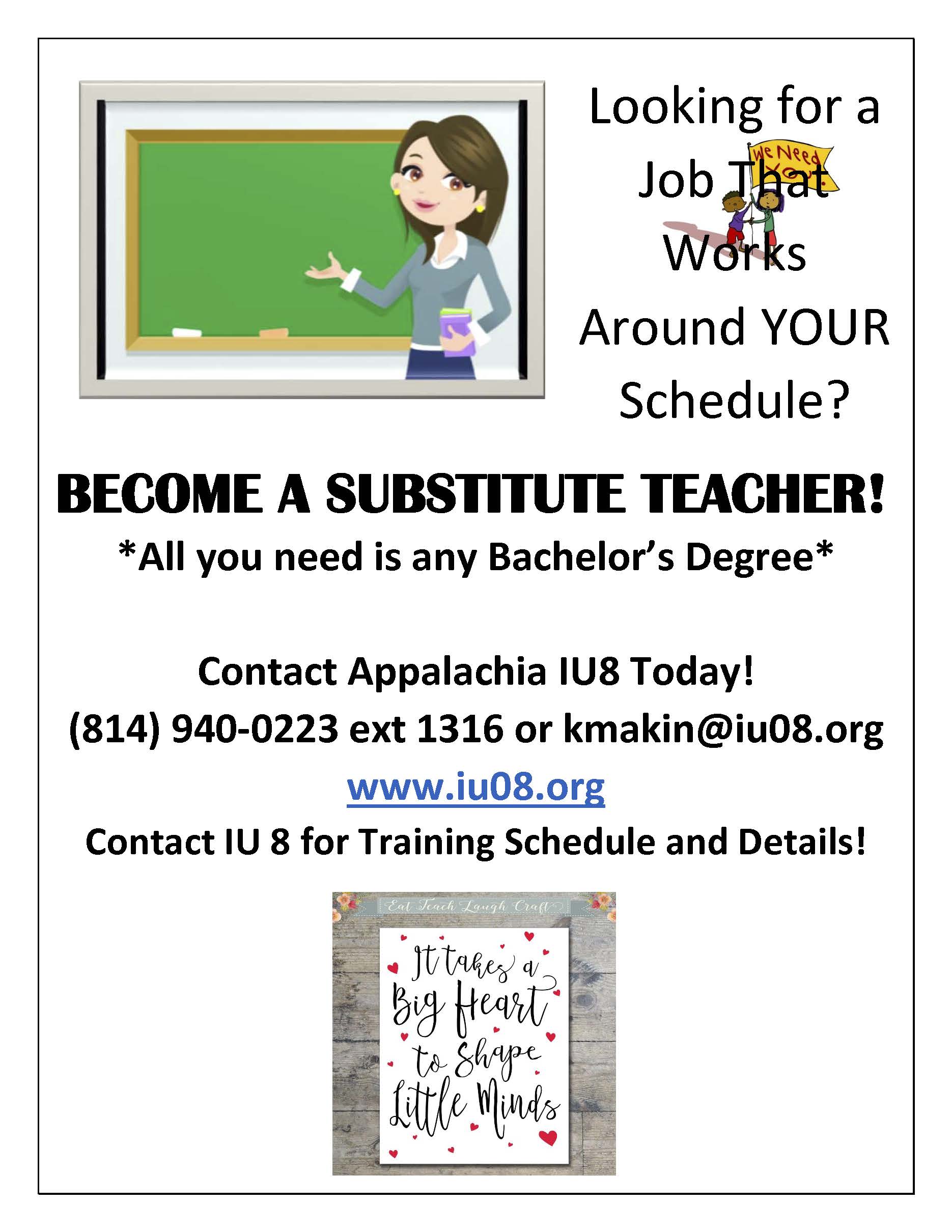 Training Dates –interested individuals must submit the application (Substitute Teacher Application Packet link in upper left) before attending – once the application is received, Karen Makin will follow up and get you scheduled. Those scheduled will receive the training invite with details on location.
September 13 & 14, 2021
October 7 & 8, 2021
November 4 & 5, 2021
December 7 & 8, 2021
January through April dates will be updated later this fall
EVERETT AREA SCHOOL DISTRICT is seeking:
-Substitute Teachers: All certification areas
-Substitute Teacher Assistants
-Substitute Custodians
-Substitute Food Service Workers
Submit: application, Act 168 Background Check(s), PA Criminal History, Child Abuse Clearance & Federal Criminal History to: EASD c/o Nicole Bagley, 427 E. South St, Everett PA 15537. Candidates must be able to pass background checks. Applications are available online @ https://www.everettasd.org/employment-opportunities--158.
​Everett Area School District is seeking the following for the 2022-23 school year:

MS English Teacher
MS Daily Substitute - $130/day and 10 PTO Days
Food Service Worker
2nd Shift Custodian
Junior High Cheer Coach
Please submit cover letter, corresponding application, 3 references, clearances/background checks: Act 24, 34, 114, 151, 126 &168 to: EASD c/o Nicole Bagley, 427 E. South St, Everett PA 15537. Deadline: until positions are filled.​
AMERICORPS WORKER
Everett Area School District is seeking a MS/HS student tutor. Wages & benefits include: bi-monthly stipend, individual health care & education stipend. Teaching certificate preferred, but not required. Applicants must possess a HS diploma, submit current Act 24, 34, 151 & FBI clearances; Act 168 employer background checks; be able to work with children & adults; possess working knowledge of computers & have organizational skills. Job description available @ 652-9114 x 3113. Send cover letter, resume and clearances to: EASD, Attn: Nicole Bagley, 427 E. South St., Everett PA 15537.